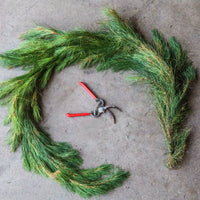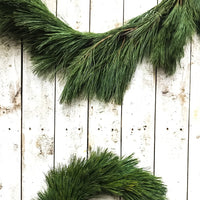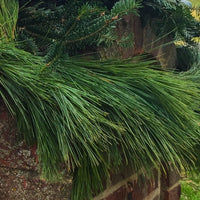 Our White Pine Garland is has become even more popular in recent years. Its versatility can be used for mantles, mailboxes, banisters or entryways. It adds modern charm and it's fullness cannot be matched.
Description
Size: 5', 15' or 25'
Material: White Pine
Availability*: November, December
Typically lasts up to six weeks depending on environmental conditions. Learn more on our FAQ.
Pro-Tip: 
Keep out of direct sunlight to keep it green! Fun fact the sun actually turns our white pine garland pink (we don't hate it).
*Availability is subject to change based on weather, health of the greenery, and other conditions that might effect the growing season.
Care + Installation Tips
Keep the greenery out of direct sunlight and spritz it with some water every other day for the best lifespan.
Head to our care tip guidelines to learn how to make your greens last.
Head to our installation tips to learn our best secrets and tools for easy installation.