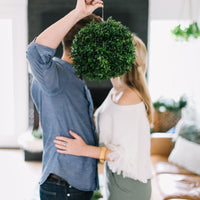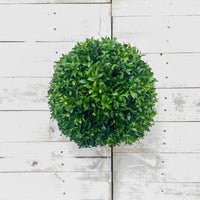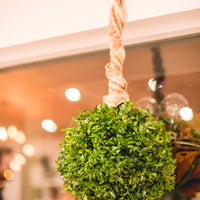 The ultimate mistletoe! Our Boxwood Kissing Balls are such a fun, festive and fresh way to liven up your home or office for the holiday season.
Description
Size: 10" + 14"
Material: Boxwood
Availability*: November, December
Typically lasts up to 5  weeks depending on environmental conditions. Learn more
Pro-Tip:
After the season, these Kissing Balls can be staged as topiaries by placing them atop urns or vases.  If cared for well by misting daily, these pieces can last until the Easter season. *Availability is subject to change based on weather, health of the greenery, and other conditions that might effect the growing season.
Care + Installation Tips
Keep the greenery out of direct sunlight and spritz it with some water every other day for the best lifespan.
Head to our care tip guidelines to learn how to make your greens last.
Head to our installation tips to learn our best secrets and tools for easy installation.