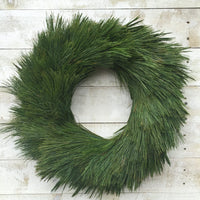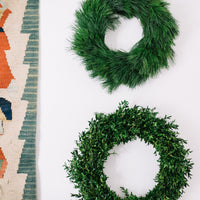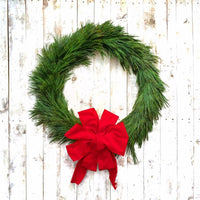 Our lush, long needle White Pine Wreath adds rustic charm to any home. Their soft, minimalist feel are a particular favorites in our modern homes.
Description
Size: 16" to 60"
Material: White Pine
Availability*: November, December
Typically lasts up four weeks depending on climate and exposure to the sun.  Learn more
We can ship up to 30" sized wreaths but no larger
*Availability is subject to change based on weather, health of the greenery, and other conditions that might effect the growing season.
Care + Installation Tips
Keep the greenery out of direct sunlight and spritz it with some water every other day for the best lifespan.
Head to our care tip guidelines to learn how to make your greens last.
Head to our installation tips to learn our best secrets and tools for easy installation.