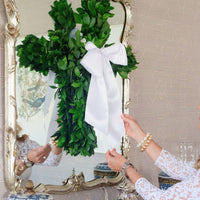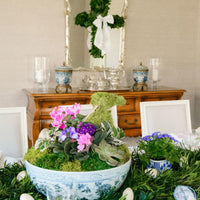 Israeli Ruscus Cross Wreath
This Israeli Ruscus Cross Wreath brings a hearty, fresh welcome to your home.&nbsp;</strong><strong>As a universal symbol of hope and life, our cross wreaths bring great joy to any home.
Description
This wreath does not come with a bow
Size: 28" long
Material: Israeli Ruscus Stems
Availability*: Year-Round
Pro-Tip:
Don't throw it out, dry it out! Once your wreath starts to dry out, set it out in the sun to sunbathe for a few days in direct sun. Once it is dried out, it can be kept dried or spray painted another color to keep for years to come. For inspiration, see how Alicia Wood of
Alicia Wood Lifestyle styled this wreath for this Easter's at-home celebration
.
*Availability is subject to change based on weather, health of the greenery, and other conditions that might effect the growing season.
Care + Installation Tips
Keep the greenery out of direct sunlight and spritz it with some water every other day for the best lifespan.
Head to our care tip guidelines to learn how to make your greens last.
Head to our installation tips to learn our best secrets and tools for easy installation.