Feel confident, inspired and at peace in your home
Effortless Decorating
We design the highest quality greenery so you can elevate your space in no time.
Shop Now
be the hero of your party
We offer three tiers of design from DIY to custom install so you have more time to focus on your people.
Our services
invest in others
By shopping with us, you are investing in fair wages, sustainable materials and fighting sex trafficking.
Learn more
stree free zone
decorating should inspire joy
We know what it feels like to tackle hosting and decorating for an upcoming event, dinner party or holiday.

It can be difficult to find high-quality and ethical decor that also nails the look you've envisioned.
That's where we come in.


Gracious Garlands gives you easy access to beautiful greenery that will elevate your space in no time.


SHOP GREENERY
EASY ORDERING
FOLLOW THESE FOUR SIMPLE STEPS
So easy you don't even need to get out of your pajamas to transform your space.
SHOP GREENERY
Elevate your space with our luxury, farm-fresh greenery shipped to you:
wherever, whenever.
SHOP GREENERY
EMPOWERING YOU
OUR GOAL
We want to empower you to become a modern day tastemaker who creates inspiring environments utilizing natural elements like greenery and florals.


Making it easy for you to:

• Create a beautiful, sustainable home

• Feel confident, inspired and at peace in your space

• Effortlessly design and decorate for perfect gatherings


SHOP GREENERY
Featured Collections
FALL GARLANDS

FALL WREATHS

FALL THREADS
new to the fall collection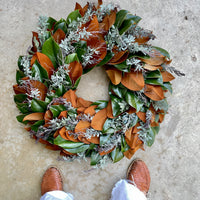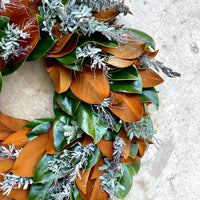 Magnolia and Purple Acacia Wreath
New this fall, our Magnolia and Purple Acacia Wreath is brimming with autumn hues to celebrate the season.
Description
Size: 12" to 36"
Material: Magnolia and Purple Acacia
Availability*: October, November, December
These pieces begin to age after about one week. To prolong their freshness, keep away from sunlight, moisture and heat sources. Learn more
Pro-Tip:
 Do not mist our magnolia greenery - this will cause spotting and will not prolong freshness. *Availability is subject to change based on weather, health of the greenery, and other conditions that might effect the growing season.


fresh tips just for you
download our free care guide
Dowload our free guide we built just for you to know the best ways to care for fresh greenery.
Download now