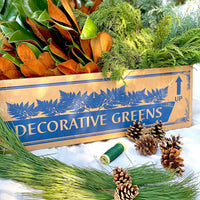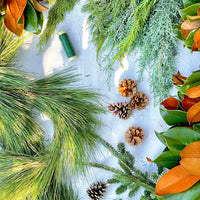 Our Floral Mailbox Kit comes packed full of luscious evergreens, magnolia, garland, pinecones and floral wire for you to decorate your mailbox for the holidays. Complete with a YouTube how-to tutorial, this kit has everything you need to design a show-stopping arrangement.
Description
Included:
QR code to how-to mailbox decorating video
1 roll of green floral wire
8ft pine garland for your base

55 total foliage stems

3 bunches of Fraser Fir Stems, 15 stems
4 bunches of Magnolia Stems, 20 stems
0.5 bunch of Carolina Sapphire, 5 stems
0.5 bunch of Leyland Cypress, 5 stems
1 bunch of Gold Tipped Cedar, 10 stems

5 pinecones
Availability*: November, December
Pro-Tip:
  *Availability is subject to change based on weather, health of the greenery, and other conditions that might effect the growing season.
Care + Installation Tips
Keep the greenery out of direct sunlight and spritz it with some water every other day for the best lifespan.
Head to our care tip guidelines to learn how to make your greens last.
Head to our installation tips to learn our best secrets and tools for easy installation.