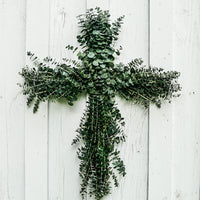 Baby Eucalyptus Cross Wreath
Our Baby Eucalyptus Cross Wreath is a beautiful and fragrant symbol of hope and life. It is a soft, modern addition to any home this season. This wreath pairs perfectly with our Nagi + Baby Eucalyptus Garland.
Description
This wreath does not come with a bow
Size: 28" long
Material: Baby Eucalyptus Stems
Availability*: Year-Round
Pro-Tip:
Try to avoid this Baby Eucalyptus Wreath from getting wet as water tends to spot the leaves. It will dry beautifully to a light grey and you can keep it for years to come! Post your wreath to instagram and then tag us at
@graciousgarlands
so we can share in your wreath love!
*Availability is subject to change based on weather, health of the greenery, and other conditions that might effect the growing season.
Care + Installation Tips
Keep the greenery out of direct sunlight and spritz it with some water every other day for the best lifespan.
Head to our care tip guidelines to learn how to make your greens last.
Head to our installation tips to learn our best secrets and tools for easy installation.