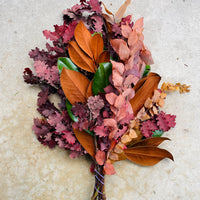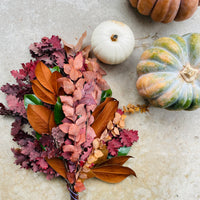 Fall Foliage Drop-In Bouquets
Drop-In Bouquets make for quick and easy decorating. Perfect to add little touches of fall foliage around your home.
Description
Included:
Minimum of 5 bouquets, come in 5 count increments
9 pruned stems per bouquet for easy arranging, give fresh cut and remove leaves below water line below dropping in water

2 Magnolia Stems
4 Preserved Stuartiana Stems
3 Preserved Red Oak Stems

Please note, in the beginning these preserved stems are likely to "sweat" and drip color -- as they dry, this will stop
Availability*: September, October, November, December
Pro-Tip:
  *Availability is subject to change based on weather, health of the greenery, and other conditions that might effect the growing season.
Care + Installation Tips
Keep the greenery out of direct sunlight and spritz it with some water every other day for the best lifespan.
Head to our care tip guidelines to learn how to make your greens last.
Head to our installation tips to learn our best secrets and tools for easy installation.