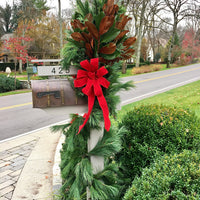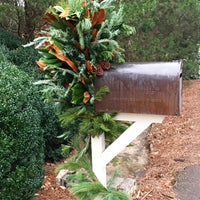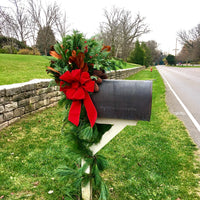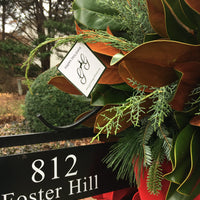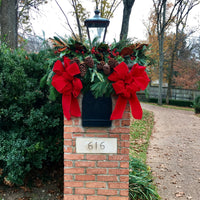 Floral Mailbox Installation
Austin and Nashville Customers Only
*please click the link below titled "IMPORTANT" to verify your zip code*

We will be decorating mailboxes between November 27-December 4 and will email you with your estimated time of installation.

Nothing says "Welcome home for the holidays" like decorating your mailbox in December. Have Gracious Garlands come install a custom floral mailbox for you! This is our most luxurious service we offer.
Description
We have three variations of our custom mailbox decorating service.

Classic: Greenery + Traditional Red Bows
Natural: Greenery + Pinecones, No Bow
Plush: Greenery, Traditional Red Bows, Red Winterberry + Pine Cones
Availability: Nov 27-December 4
Life span of mailbox greenery depends on exposure to sunlight and other environmental conditions. Spritz your greenery with water to make it last longer. Care Instructions
Give the gift of a decked out mailbox >>
Give the gift of hospitality this holiday to a loved one as a surprise! We will email the recipient to let them know they have this special treat coming their way so they do not decorate their own mailbox.  We will also leave a GG card with your personal note to let them know this gift is from you.
Care + Installation Tips
Keep the greenery out of direct sunlight and spritz it with some water every other day for the best lifespan.
Head to our care tip guidelines to learn how to make your greens last.
Head to our installation tips to learn our best secrets and tools for easy installation.