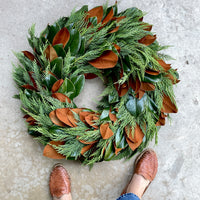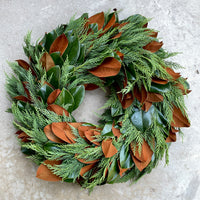 Magnolia and Leyland Cypress Wreath
New this holiday, our Magnolia and Leyland Cypress Wreath will fill any home with wonder and joy this season.
Description
Size: 12" to 36"
Material: Magnolia and leyland cypress
Availability*: October, November, December
These pieces begin to age after about one week. To prolong their freshness, keep away from sunlight, moisture and heat sources. Learn more
Pro-Tip:
 Do not mist our magnolia greenery - this will cause spotting and will not prolong freshness. *Availability is subject to change based on weather, health of the greenery, and other conditions that might effect the growing season.
Care + Installation Tips
Keep the greenery out of direct sunlight and spritz it with some water every other day for the best lifespan.
Head to our care tip guidelines to learn how to make your greens last.
Head to our installation tips to learn our best secrets and tools for easy installation.