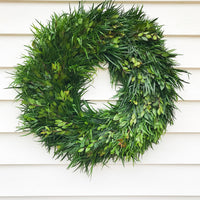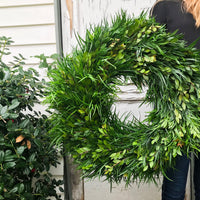 Myrtle and Podocarpus Wreath
Our favorite addition to the Spring collection, the fresh Myrtle and Podocarpus wreath has both humble beauty and fragrance. These branchy stems create a fullness and sense of optimism that's hard to beat.
Description
Size: 24" and 30"
Material: Myrtle and Podocarpus
Availability*:  February, March, April, May
Typically lasts up to four weeks depending on climate and other conditions.  Learn more
Choose your desired delivery date at check out — please allow 2-4 days for your greenery order to be processed, cut + made.
Free Shipping — from farm to doorstep in just two days!
Pro-Tip:
 Mist the back of the Myrtle and Podocarpus Wreath daily to keep it looking fresh! *Availability is subject to change based on weather, health of the greenery, and other conditions that might effect the growing season.
Care + Installation Tips
Keep the greenery out of direct sunlight and spritz it with some water every other day for the best lifespan.
Head to our care tip guidelines to learn how to make your greens last.
Head to our installation tips to learn our best secrets and tools for easy installation.