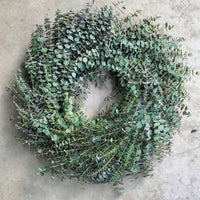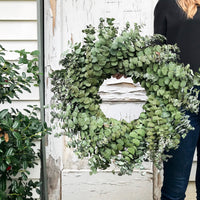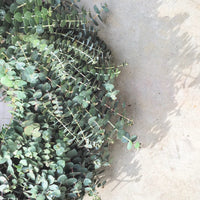 Perfect for indoors or outdoors, our fresh Baby Eucalyptus Wreath accents any home with its grey-green stems and relaxing scent!
Description
Size: 20", 24", 30", 36"
Material: Baby Eucalyptus
Availability*: year-round
Typically remains fresh for 1 week before the drying cycle begins, depending on climate and other conditions. This classic eucalyptus dries beautifully on its own making it last for a long time. Learn more
Choose your desired delivery date at check out — please allow 2-4 days for your greenery order to be processed, cut + made.
Free Shipping — from farm to doorstep in just two days!
Pro-Tip:
 Once the baby eucalyptus wreath has dried, store in a box with tissue paper to reuse again next Spring! Baby eucalyptus gathers dust easily so to clean the stems use a damp cloth or paint brush to wipe off the dust. *Availability is subject to change based on weather, health of the greenery, and other conditions that might effect the growing season.
Care + Installation Tips
Keep the greenery out of direct sunlight and spritz it with some water every other day for the best lifespan.
Head to our care tip guidelines to learn how to make your greens last.
Head to our installation tips to learn our best secrets and tools for easy installation.