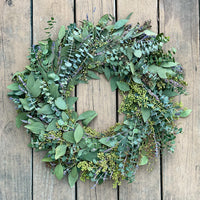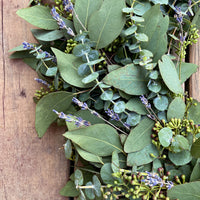 Lavender Eucalyptus Wreath
Discover the serenity of Lavender Eucalyptus Wreath. Handcrafted with delicate baby eucalyptus, a touch of seeded eucalyptus, and fragrant dried lavender, this wreath is the perfect way to welcome the warmth of spring into your home. Would you like to bring peace and tranquility to your home?
Description
Size: 20", 24", 30", 36"
Material:

Baby Eucalyptus, Seeded Eucalyptus and Dried Lavender

Availability*: year-round
Typically remains fresh for 5 days before the drying cycle begins, depending on climate and other conditions. This classic eucalyptus dries beautifully on its own making it last for a long time. Learn more
Choose your desired delivery date at check out — please allow 2-4 days for your greenery order to be processed, cut + made.
Free Shipping — from farm to doorstep in just two days!
Pro-Tip:
 Post your wreath to instagram and then tag us at 
@graciousgarlands
 so we can share in your wreath love! 
*Availability is subject to change based on weather, health of the greenery, and other conditions that might effect the growing season.
Care + Installation Tips
Keep the greenery out of direct sunlight and spritz it with some water every other day for the best lifespan.
Head to our care tip guidelines to learn how to make your greens last.
Head to our installation tips to learn our best secrets and tools for easy installation.