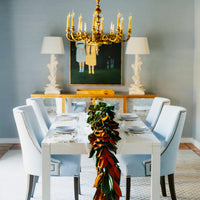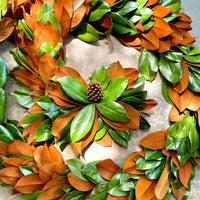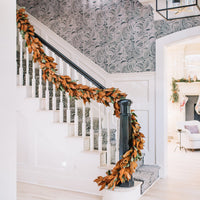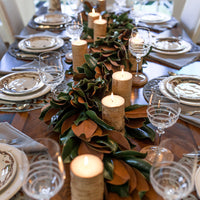 Our magnolia garland is a statement piece that adds brilliance to any home. As with any cherished southern piece, it becomes more beautiful with age.
Description
Size: 5', 15′ or 25'
Material: Magnolia
Availability*: November, December
Typically begins to age after about one week. To prolong their freshness, keep away from sunlight, moisture and heat sources. Do not mist the magnolia garland - this will cause spotting and will not prolong freshness. Learn more on our FAQ.
Pro-Tip:
Once fully aged, the leaves turn into a beautiful caramel color. We think our aged
magnolia wreaths
and garlands are just as beautiful as when they arrive fresh.
*Availability is subject to change based on weather, health of the greenery, and other conditions that might effect the growing season.
Care + Installation Tips
Keep the greenery out of direct sunlight and spritz it with some water every other day for the best lifespan.
Head to our care tip guidelines to learn how to make your greens last.
Head to our installation tips to learn our best secrets and tools for easy installation.